This is the third and final in a series of art talks with our painters. As you might have read, our game will feature paintings from acclaimed Croatian young artists. For example, when you enter Orville's mansion, he has pictures hanging on his walls, from some of our finest fine artists (pun very much intended) as seen here:
Today we interview Tara Beata Racz, whose pictures grace many of the Burrows interior, including the Badger portrait in Orville's office:
Tara Beata Racz holds a masters degree in painting on the Academy of Art in Zagreb in 2019 in the class of Ksenija Turčić, as well as a masters in psychology from 2016. During her studies, she received two Dean awards from the University of Zagreb and exhibited on many galleries including the Zagreb Biennale of Painting in 2019. She also finished a two-year program of Clinical Expressive Art Therapy, which combines her two interests – psychology and painting. Here follows an interview with Tara, who does paintings for many different interiors of the Animal Kingdom (and beyond it).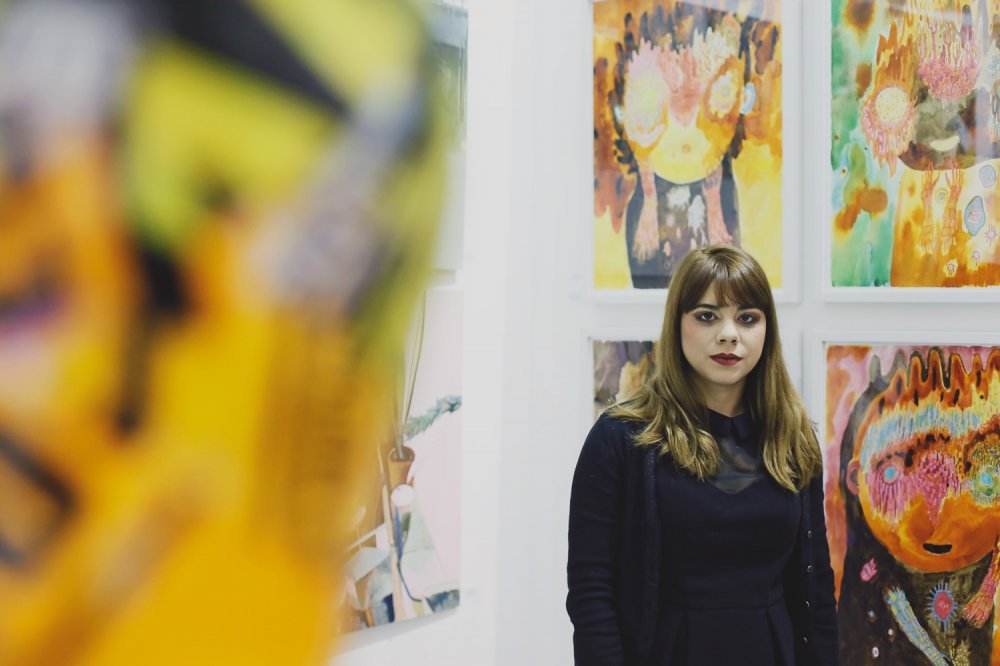 How did you decide which animal portraits to paint and which style to paint them in?
I am currently exploring animal themes in my work so this task was an opportunity to expand on it. However, I decided to try a different style, inspired by the works of Franz Mark and Wassily Kandinsky. I wanted to combine the figurative visages of animals with the abstract shapes and symbols. Special importance and prominance in my paintings is given to strong use of colors and powerful expressive gestures. The choice of style for each animal depends on the symbolism of each animal. For example, I have decided to paint foxes because they are one of my favourite animals; they are the protagonists in many folk tales and fables, and they are described as quick, cunning, ingenious, shrewd, and excedingly intelligent animals.
What do you think about combining the modern (video game) and the old (painting)?
I find it interesting when artists combine a classic traditional medium such as painting, sculpting or graphics with modern expression or new technologies. Many of such interesting examples could be seen last year on the Device Art festival with the theme "Machines Are Not Alone".
On the other hand, video games are a medium in itself with its own set of rules and aesthetics. It is genuine art to create a good video game. I especially enjoy good concept arts and character designs, or when the aesthetics of the game is based on a painting aesthetic, for example Okami which was inspired by the works of Katsuhika Hokusai or Ori and the Blind Forest which was inspired by Hayao Miyazaki, or Ico which was inspired by Giorgio de Chirico…
What is your general interest in art and painting?
Some of my favourite paintes are Wassily Kandinsky, Paul Klee, Franz Mark, Pierre Bonnard, Édouard Vuillard and Henri Matisse. Even though their expressions vary, they are connected by their relationship to color. I am interested in the psychological effects of colors and their symbolism. I am also exploring how different color contrasts can be used to express certain emotions and moods. I believe art and painting can have, beside the aesthetic, also a therapeutic function. I love the whole creative process of painting as well, because through it I can surface certain subconscious conflicts and express what is unexpressable through words.
What else is there to be done in this project, in your opinion?
I find the idea of characters in the game nurturing culture and art fascinating. I also believe it is commendable that the company supports young artists and works with them to create paintings for use inside the game. I would be especially happy if the game space would expand to other continents with animals who have different cultures, such as the southern colony where there is the Monkey Civilisation. Their artistic expression could be very different from what we saw till now. It would be interesting to envision how their paintings would look, and I already have some ideas, and am waiting for the chance to realise them.
And what else are you doing? Where can everyone see your work?
I am planning two solo exhibitions in early December. The first will be in the Zlati Ajngel gallery in Varaždin. There I will exhibit my Transanimalia cycle where I showcase various fantastical animal creaters, who are transformed under the influence of their surroundings and this transformation reflects their inner and outer metamorphoses and mutations.
Painting animals today is a way to give them a voice because, as we live in civilisation, we forget about the wild, we are often unaware and indifferent to the fact that species are dying out. Did you know that among all the mammals on Earth, only 4% are still wild animals? Besides this, by painting animals, I can explore the animal in man as well as the human in the animal, questioning my own identity in the world around me and inside me.
The second exhibition will be in the Kaj Gallery in Zagreb. For this, I am preparing a series of nudes made from motor oil on jute fiber. This series is about the dark nature of human psyche known under the jungian concept of the shadow archetype. In this period of crisis, pandemic and quarantene, many changes are happening that affect the human mood and behaviour. We have never participated in such a global experiment that forced us to physical isolation, closing in appartments, stopping of many activities, introspection… In these circumstances we turn more toward ourselves, submerge within ourselves and meet our own shadow. Still, this is a chance to bring our shadowy places to the light.
It will be great to see these ideas in reality in December. Thank you for the interview!
Also, if you wish to follow Tara, she has an Instagram account. So do we!