Moving to a New Office!
What a click-bait title, sorry about that. We're actually moving 5m away to a larger office inside the same complex – the wonderful Zagreb Innovation Center (ZICER). So we're gonna spend some time writing about how great it is here, and what great opportunities the ZICER institution offers.
As you know, our team is a bit international, but we've all settled in Zagreb where most of the team (and the company) is situated. And a large team needs a place to work and coordinate! Although there was a time when we all worked from home (March and April, during the pandemic crisis in Croatia as well as the earthquake in Zagreb), the pandemic is now completely over in sunny Croatia and life and work is mostly back to normal as well.
In case you need a reminder how Zagreb looked right after the earthquake, here's a nice video from Vid Juracic, Jan's brother:
We've used this opportunity to switch to a larger office, within the same office complex. As you might know, Gamechuck is part of the Zagreb Innovation Center. The Zagreb Innovation Center (ZICER) is a startup incubator which repurposed one pavilion of the Zagreb Fair into a grounds for young companies to grow and work together.
Since it's a huge hub and one of the centers of the Zagreb innovation and startup scene, we often get many visitors and curious dignitaries:
Often there are schools from all over Croatia visiting the innovation center so we have the unique opportunity to beta-test with our potential fanbase as well, which is great:
Not to mention that it's always full of other people whose unique skills can be used in a great and synergistic way (for example, ZICER is where we met PulsarLabs, the great electromagicians who helped us create the Gamechuck Arcades).
ZICER also offers a lot of legal, financial, and technological assistance, which made it possible for us to grow from a two-man-band in mid-2017 to a large 16-strong company in just a few years.
Of course, it's not all about taking, so we try to give as much as we take, either by helping other studios with some work (3D-printing some small stuff for example) or by participating in round tables and similar events.
However, each office in ZICER is 20m2 big, so we needed two offices to actually be able to fit all of our people (both from the retro team and the Ark team). So we've actually had two offices one across from another. This was great but also we kind of miss each other and sometimes walk around a lot instead of just shouting what we need. So now that we've been offered to move to a combined double-office of 40m2, we jumped at the opportunity!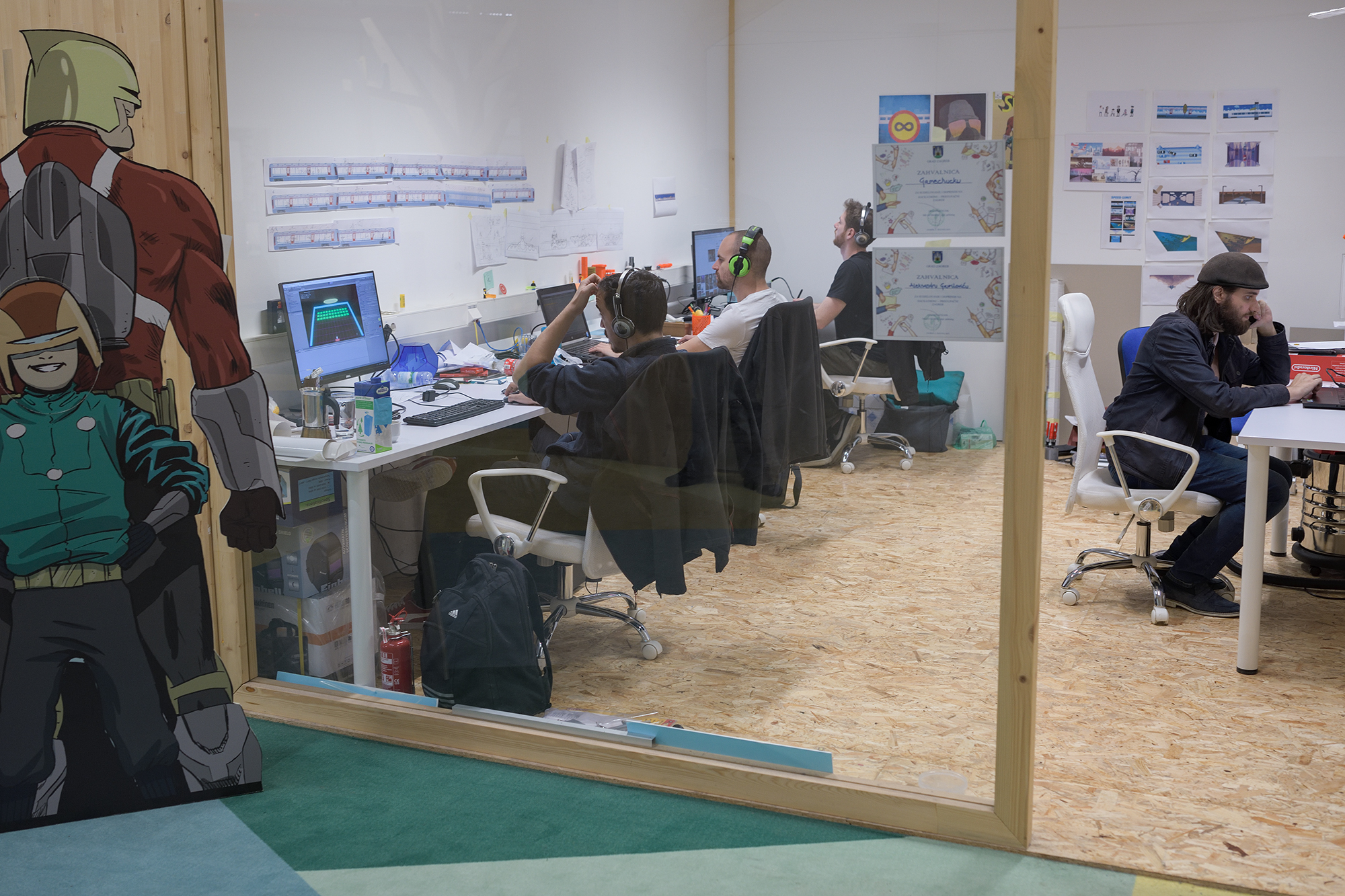 So now we're spending the day moving into the new office, and figuring out the new layout. Here our lead writers first diploma (from the Faculy of Architecture of the University of Zagreb) can finally come in use:
Jan doing actual work while our sound designer Matija and lead programmer Piet observe and learn.
Be sure to follow us and check out great pics once we've moved! You can do so on our Discord, Facebook, Twitter or by signing up to our newsletter.